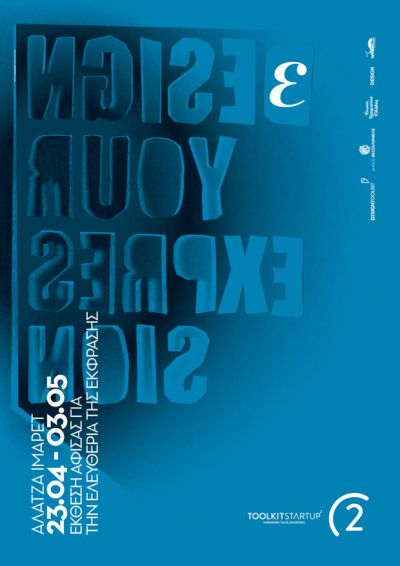 Poster exhibition on the Freedom of Expression
Saluting the 30-year anniversary of the Greek Graphic Designers Association, within the framework of Toolkit Startup 2, Design Toolkit is organizing a poster exhibition entitled "e/Design Your Expression". We called on accomplished designers throughout Greece to create posters of their view on freedom of expression – and they delivered.
Freedom of expression is the right of every human being to use speech, their body or any other means in order to express their personal positions and views without interference, censorship or repression, State-imposed or otherwise. This right is also an "umbrella" that extends protection to other basic human liberties, such as self-determination, sexual identity, and of course the freedom of the Press.
Our era reminds us frequently, as with the very recent and tragic events of the deadly attacks at the offices of the French satirical newspaper Charlie Hebdo on January 7 of this year, that it is important to reflect on our basic individual rights – what they mean, how we utilize them and how we protect them. This exhibition will offer a forum for such a reflection.
The exhibition is held under the auspices of the Greek Graphic Designers Association (http://www.ggda.gr/).
Open during: 25/04/2015-02/05/2015
Opening: 25/04/2015 20:00
91-93, Kassandrou St.