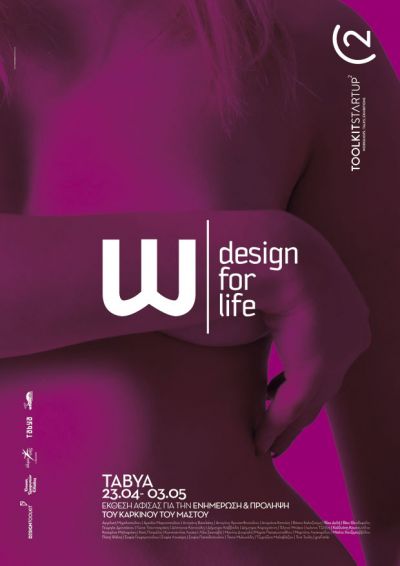 Poster exhibition on breast cancer awareness and prevention
Within the framework of Toolkit Startup 2, Design Toolkit is organizing a poster exhibition entitled "W/Design for Life". We invited women professional graphic designers from all over Greece to design posters on the subject of breast cancer, for the purpose of raising awareness and promoting prevention. This exhibition intends to highlight an important social issue that concerns all women (and not just women), locally and globally, and for which, especially in Greece, the public is not nearly as informed as it should be. We believe that through visual communication we can contribute to raising the public's awareness and to changing attitudes on issues such as breast cancer.
The exhibition is realized with the invaluable assistance of the Thessaloniki chapter of "Alma Zois" – the Pan-Hellenic Association of Women with Breast Cancer and under the auspices of the Greek Graphic Designers Association.
Open during: 23/04/2015-03/05/2015
Opening: 23/04/2015 19:30
14, Konstantinou Melenikou St., Thessaloniki